Testimonials
Don't take our word for it… here are a few of our happy clients!
Andrew Kane
"On behalf of my mother, I want to thank both of you for all of your efforts in selling her townhome. On reflection it went smoothly and at the right price and that is due to your guidance attention. I appreciate the teaming & collaboration. You have a winning team and it is much appreciated."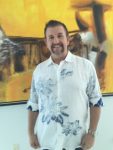 Donald Osterholt, Woodland Hills
"I've had the pleasure of working with Brian selling three of my properties. One was my main residence and the other two were rental properties. The first rental property needed some work done prior to it being listed but I was out of town. Not only did Brian handle all the work that was needed he also was able to sell the property on the first day and negotiated a price that was above asking price. I was very impressed. Then after having no luck selling my primary residence for a couple months with the so called "expert" in my area I asked Brian to step in and help me. In a period of 2 weeks Brian had four open houses, handled all the inspections and repairs for me and the house sold in two weeks and for exactly what Brian had it listed for. I'm a bit difficult to work with but Brian made sure I was informed on a daily basis and made the entire process easy for me. I appreciated that. I then moved to the east coast and when it was time to sell my last rental property I obviously contacted Brian to list and sell property. Once again the property needed a fair amount of repairs and once again Brian handled everything from A to Z. The repairs were made and the house was listed and sold on the first day for our asking price. This was all done without me even being there. What a great experience that was. I highly recommend Brian to anyone who is selling their property. He goes the extra distance to make things work, he is a sharp negotiator and more importantly he is a closer! In every case did what it took to close all my deals quickly and for what I was asking. He's the best I've ever worked with and in my opinion the best in the business. Thank you Brian for doing what it took to sell my properties. You are simply the best!"
Shelley Smith, Studio City
"Dear Brian, I am so very grateful for all you have done for me, to help me find my dream house. May you have continual success that you deserve."
Audrey Freeman, Tarzana
"It is with gratitude and appreciation that I am writing this letter of appreciation for Brian Bord.
Brian Bord is a warm, sincere, professional and extremely competent realtor. Brian met and exceeded our expectations before during and after the sale of my elderly mother's home in Encino. Brian always answered his own phone; he always had comps with him and was fully informed about condo trends in various neighborhoods (including Woodland Hills, Tarzana, Northridge) we looked to purchase a new home for my mother; was consistently patient showing my mother many properties and was available to answer her questions about her new HOA, six months after the purchase of her home.
As a result of his amazing service, my husband and I listed our Tarzana home with Brian. He took wonderful photos, created a beautiful website, sent out over 15,000 postcards and emails of the listing and listed the property at the price we wanted, recognizing that our remodeled home was done with exceptional quality and taste.
Due to his wonderful marketing, we had an offer within 3 days at a price that we honored. I will never use another realtor. For my husband and I, Brian has clearly become a lifelong friend."
Ron & Teresa, Sherwood Forest, Northridge
"Dear Brian, I wanted to take this opportunity to really thank you for your help and support throughout this entire process. You helped us overcome many obstacles, you really wanted us to have this house and it showed. Xoxo!"
Manny and Terrie M., Los Feliz
"We have recently purchased a home using one of your agents, Brian Bord. We had the pleasure of meeting Brian at an open house in Encino. At that time we had been to various open houses, but we were never so impressed as to choose one of the agents that we met at any of these viewings. We are a younger couple and were looking in approximately the million-dollar price range. Unfortunately most agents brushed us off or did not take us seriously. Thankfully, this was not the case with Brian. Brian immediately took the time to personally show us the house and answer all the questions we had. We briefly mentioned to Brian the location of our then current house and told him that we might sell or lease it and gave him our fax and home number.
We returned home in less than an hour and Brian had already faxed us all the pertinent information we needed. We were very impressed and it confirmed our first impression that Brian would be the right agent for us. Over the next few months Brian patiently showed us numerous properties in Encino, and as we are very picky, we just couldn't make a decision. Then, after a change of heart, we informed him that we would like to try the Los Feliz area. Within an hour, Brian had an entire folder filled with pictures of properties in the area we desired. Within a few weeks we found our dream home in the perfect area. Now all we needed to do was lease our other home. This was no problem for Brian, even though we did not wish to have a sign up, and wished to show it only by appointment and only by Brian.
Within a week our home was leased for exactly what we wanted with no stress or inconvenience.
All this in itself is enough to show Brian went way beyond the call of duty, but he didn't stop there. Anytime we mentioned other things needed, such as movers, painters, air conditioning repair and locksmiths etc. Brian Immediately had a contact for us, and even offered to help us move himself, when we were faced with personal time constraints. We truly don't know how we could have managed without him, and are blessed to have met him.
In the last year we have come across many of the top selling agents, but none of them offered sincere client service, and many offended us by falsely judging our economic status on appearances. After our experience with Brian, we have referred him to many friends and family. We would like to express our sincere thanks and appreciation for going beyond the extra mile in everything he did. You are the Best!"
The Lichterman's, Valley Glen
"Dear Brian, We all want to thank you so much for all your efforts in getting our beautiful house. We appreciate your expertise, patience and professionalism so much. You have really made our collective dream come true."
Teresa Wheeler, Chatsworth
"I wanted to take the time to write to you regarding one of your agents, Brian Bord. This is the third home that we have done with Brian and he continues to exceed our expectations. This home in particular was a very difficult transaction. Brian sold our home three times within a 3 to 4 month period. Each and every escrow was filled with its unique set of circumstances. The last and final escrow was by far the most challenging. Brian stayed involved every step of the process, making several phone calls to follow up on the many issues that arose. Again, Brian exceeded our expectations by keeping us informed every step of the way. Brian's work ethic and perseverance is truly "best in class". He is a season, polished and professional agent that we will continue to recommend.
I feel lucky and honored to work with such an individual and thought it was important that you know how much he is valued and appreciated."
Amanda M. Leith, Studio City
"I am writing to let you know how much we enjoyed working with Brian. From our first interview, he was professional, helpful and knowledgeable. One of the things that stood out to us with respect the other agents we spoke to was that Brian was very responsive and very well prepared. He made time to speak with us the day after we called him and he came to talk with us with hard facts and figures. Moreover, Brian asked questions to find out what our situation was and what we needed. While other agents were making fairly vague promises, Brian came up with a concrete plan from start to finish which was tailored to our specific situation. Our decision to list the house with Brian was well rewarded. He assisted us with getting the house ready to put on the market (and lent us his pressure washer), obtained the necessary documentation (such as arranging for the termite inspection and repairs), and marketed the house very well. We appreciated that he thought outside the box and included non-traditional marketing as well as the mainstream. He definitely generated a great deal of interest in the house, and it sold in a week. We moved out of the area before the public open house, and Brian was great in helping us get things taken care of long distance. He kept us informed every step of the way and answered all of our questions. He also referred us to a good escrow officer and made sure the process went smoothly.
We would highly recommend Brian and would obviously work with him again. Please feel free to contact me if you have any questions."

Teresa & Yasei, Northridge
"Brian, Thank you so much for making our dreams come true of owning our own home."
Muriel & Simon Greenberg, West Hills
"We owned a Townhouse in Thousand Oaks positioned by the 101 Freeway with a lot of noise problems. Over the last 3 years we have tried to sell this property. Brian Bord was our fourth agent to take on this challenge, from the outset he told us he would do Open Houses, advertise on the internet and print media. Much to our surprise and past experiences he actually followed through with every thing he told us. He sold the home to a couple that drove all the way from Sacramento to see it.
We believe it was Brian's salesmanship and determination that sold the house. We are truly grateful to Brian for selling our home for us, as well as finding our new home! Brian Bord works in a very professional manner at the same time being very personable."
Sande Ortiz, Encino
"I loved my Realtor; he is one of the highest integrity and went above and beyond the call of duty to ensure that my deal closed."
Real Estate Inquiries
---